Serene Innovations
Regular price
Sale price
$179.95
Unit price
per
Sale
Sold out
Share
View full details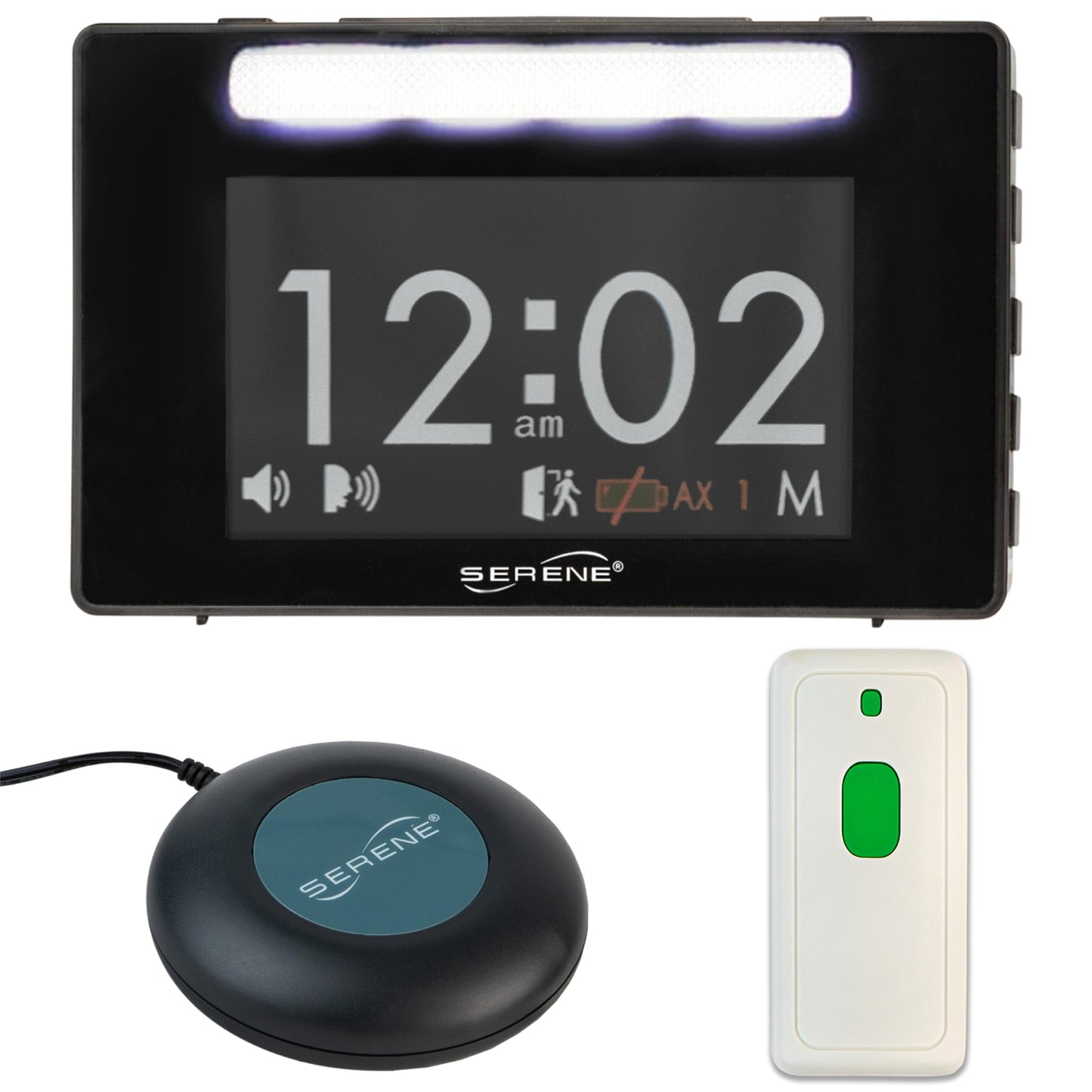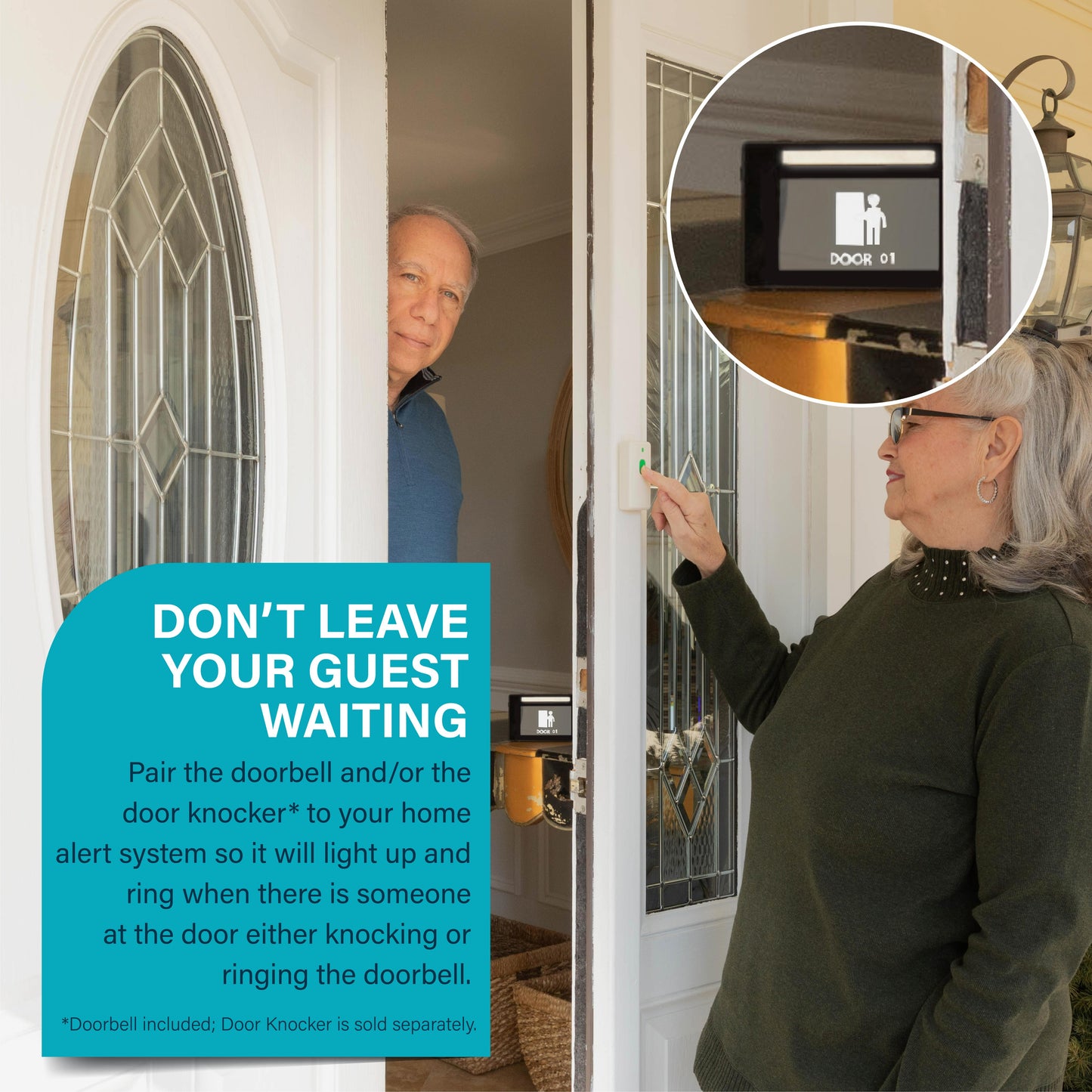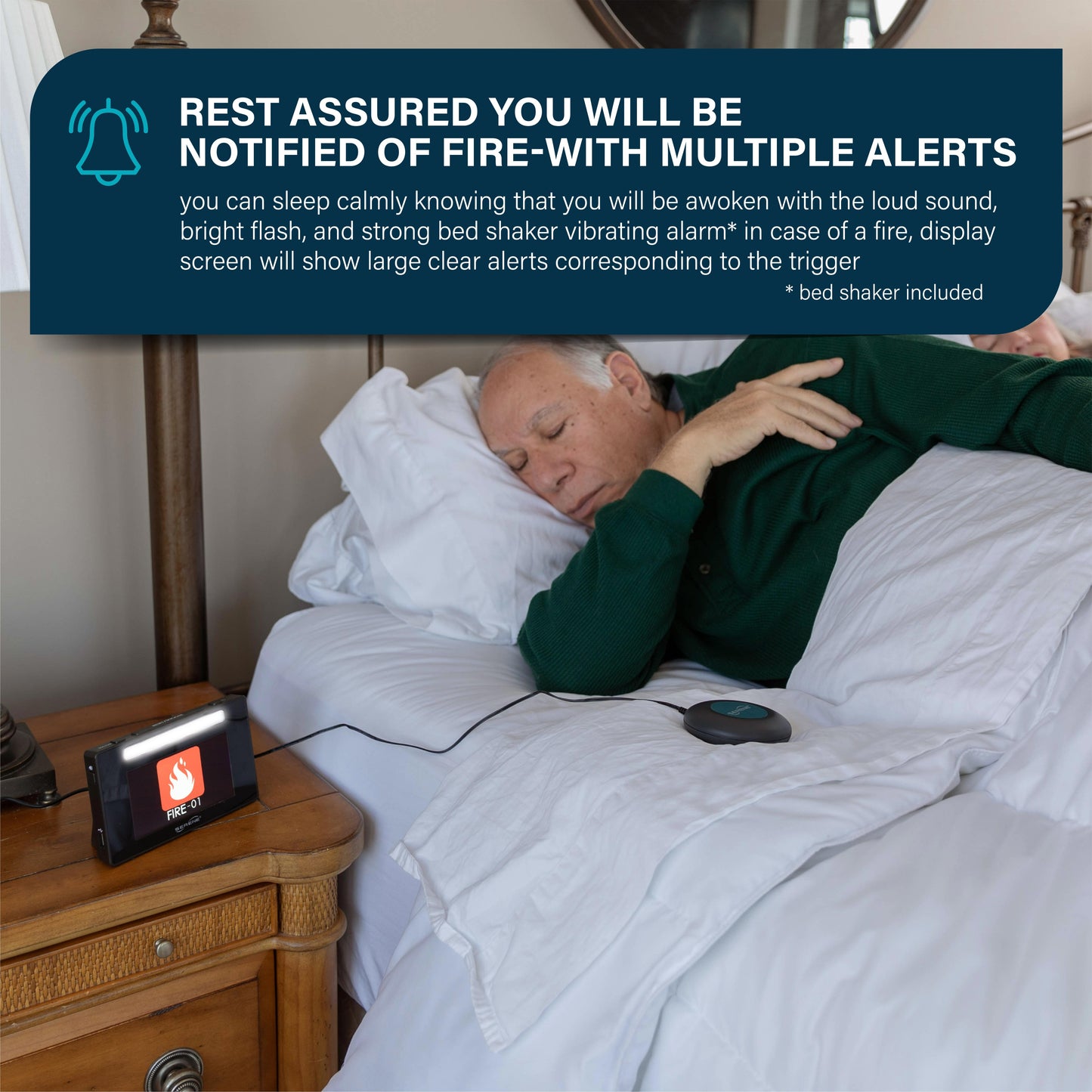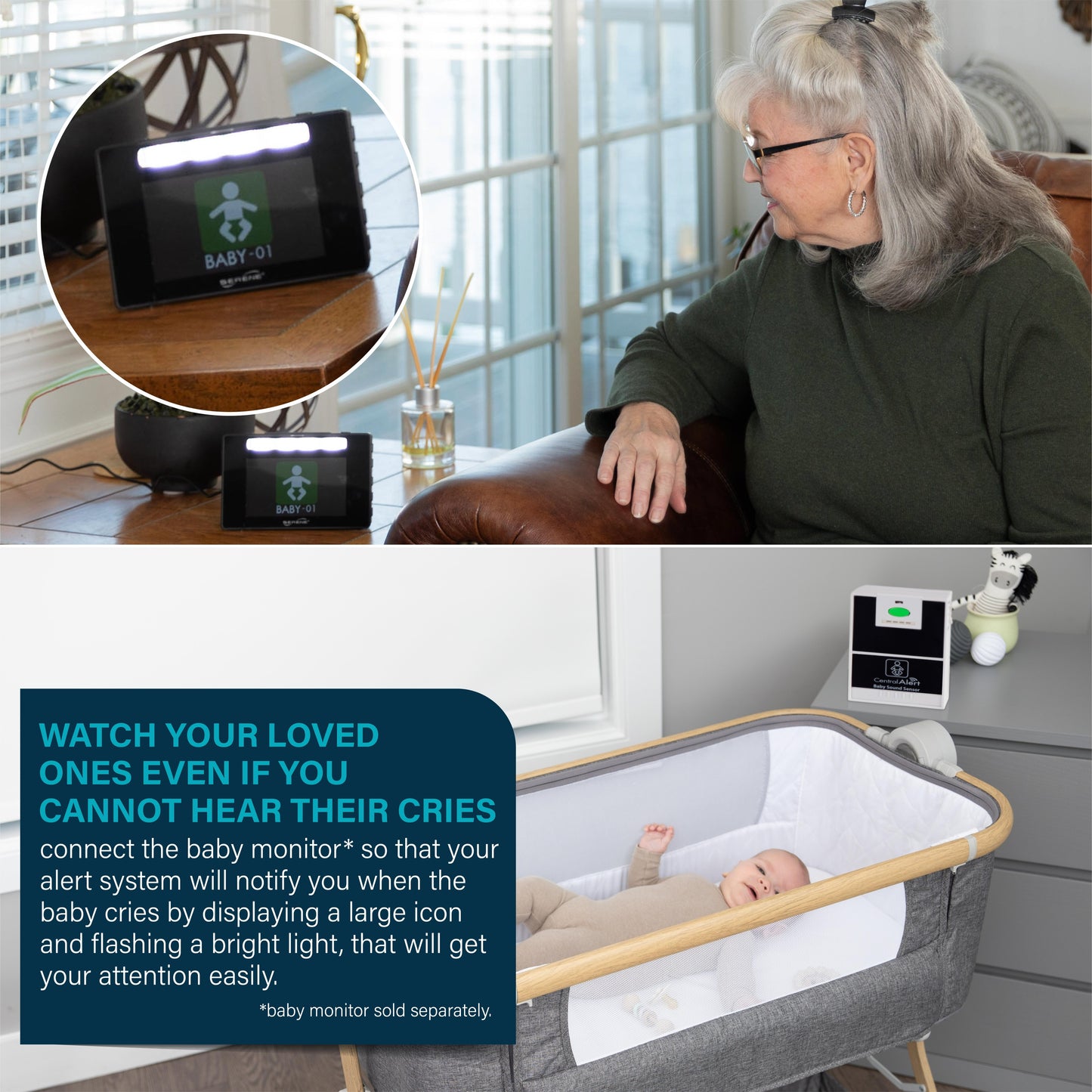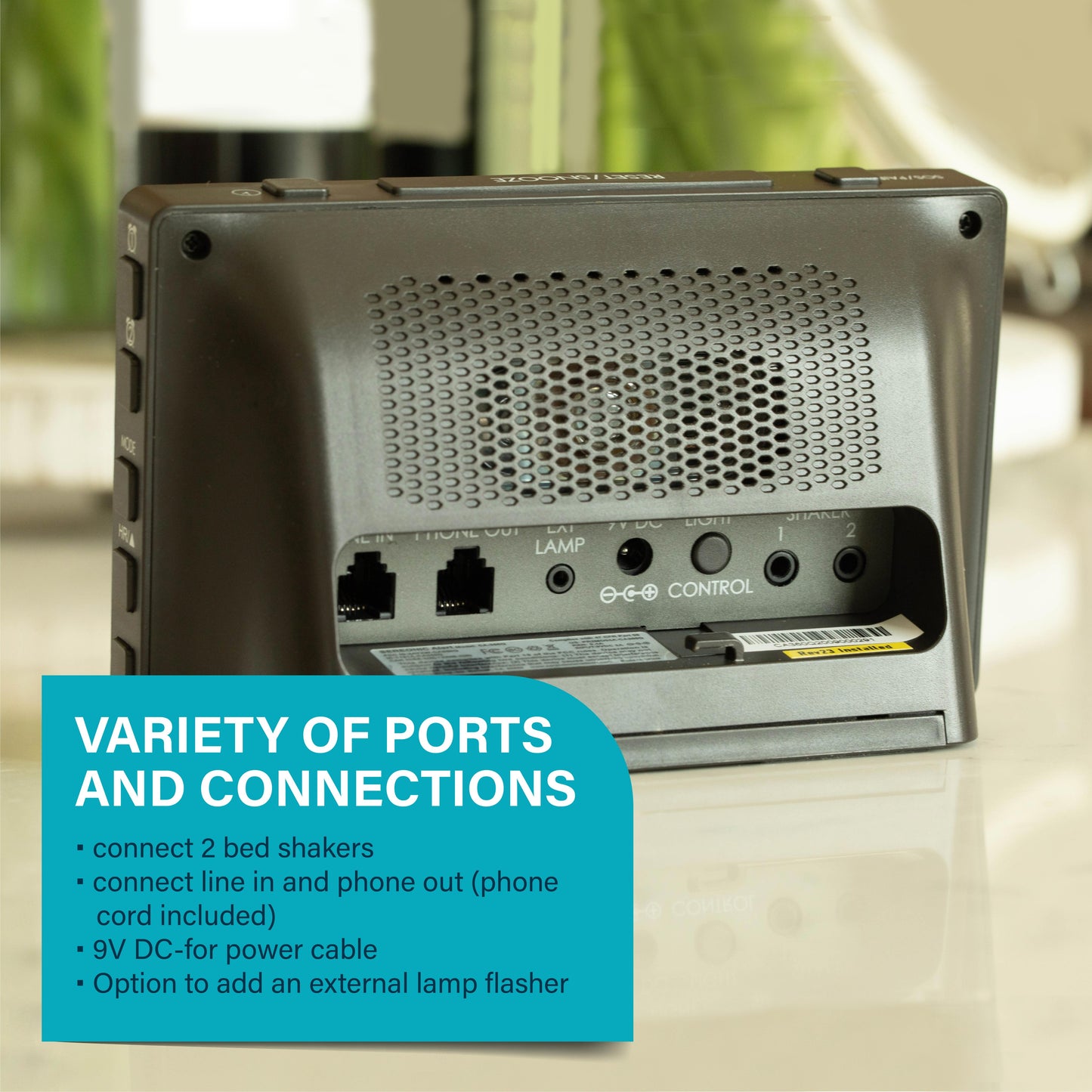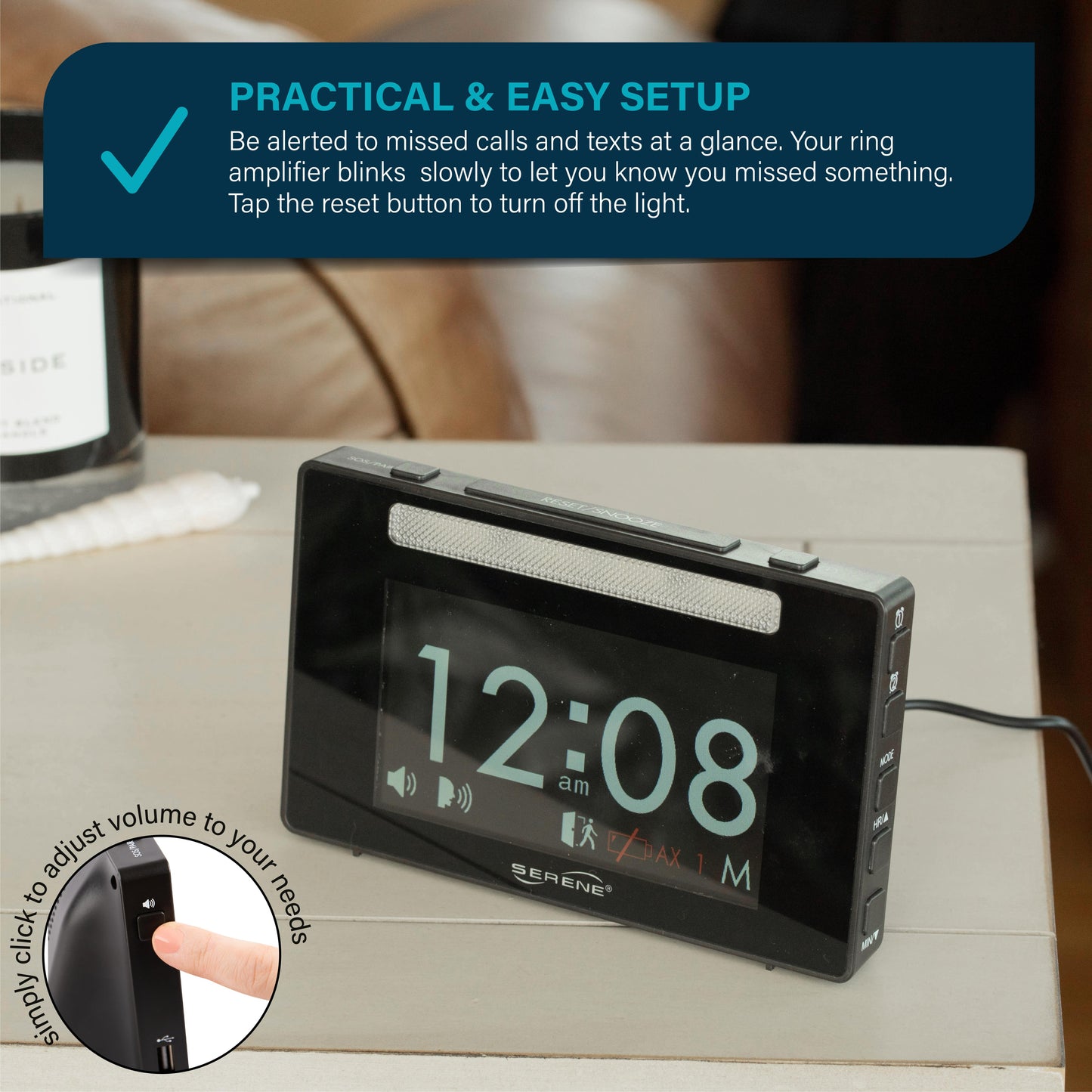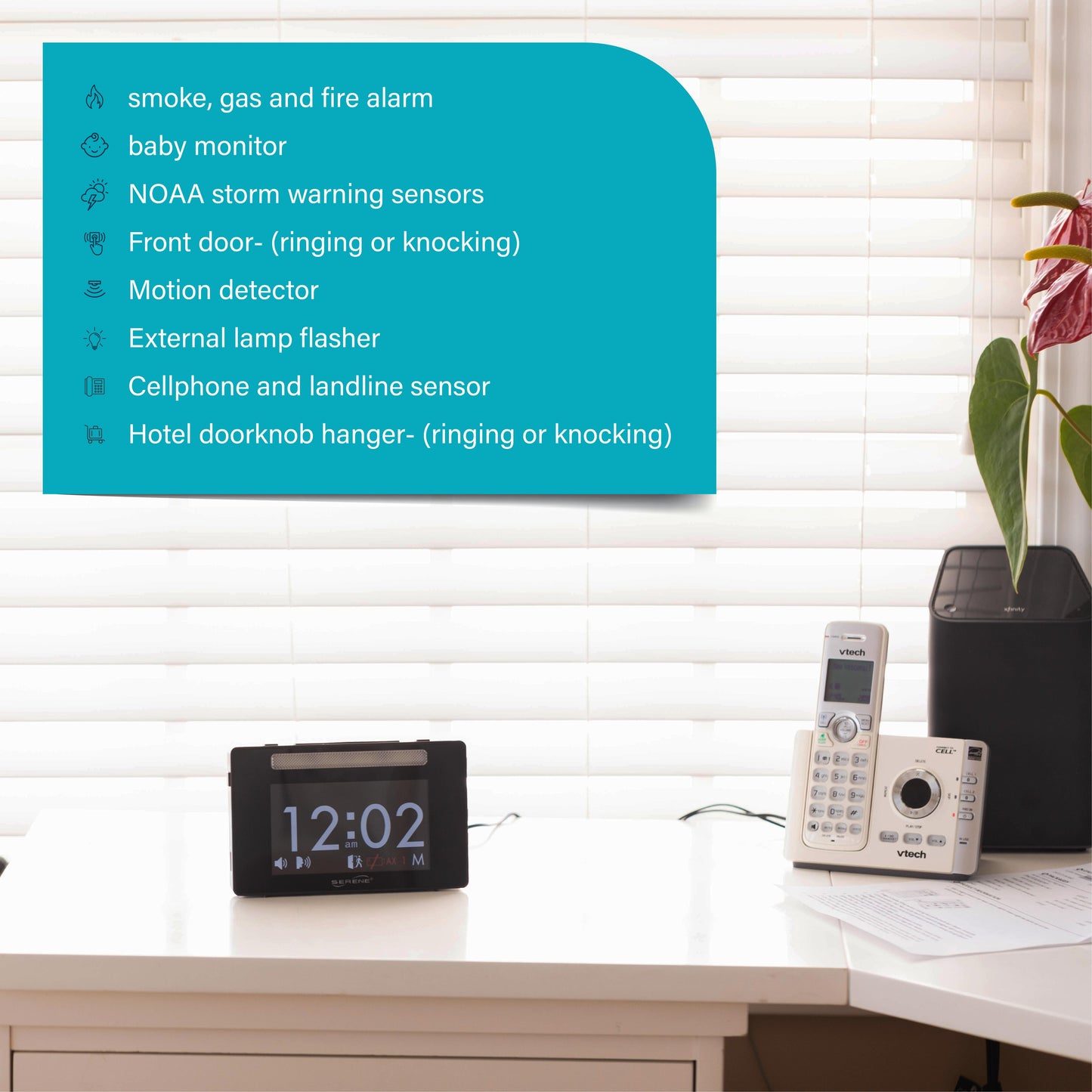 Versatile – Not just a dual vibrating alarm clock and wireless door chime, this home alert unit can connect to phone landline and several wireless alert sensors, transforming it into a smart information hub for your home; The CA-360Q connect wirelessly to cellphone ringing sensor, fire alarm sensor, NOAA weather radio, baby cry monitor, Motion detector, and door knocker (sensor transmitters sold separately).

Practical – The loud alarm clock for heavy sleepers, hard of hearing, and deaf features a wireless doorbell for home use as well as a bed shaker; What's more, this alarm clock features a bright flashing notification light, a +96dB loud sounding alert, digital voice speech, and a vibrating bed shaker.

Reliable – The alarm clock for deaf people was specifically designed to be robust and reliable even during power outage. This bed shaker alarm clock has rechargeable batteries so can be alerted to anyone ringing your doorbell or trying to call you on your landline phone during power outage.

Features – This alarm for heavy sleepers, features dual digital extra loud alarm clock with user selectable display colors, multiple alert tone frequency, dual independent bed shaker connections, voice announcement of alarm type, visual icons, and lamp flasher connection.

Professional – The SEREONIC CA-360Q system has been developed by hundreds of hours of research in consultation with leading audiologists and emergency specialists; This integrated home alert system and doorbell for hearing impaired people puts your safety and peace of mind first.
Specifications:
Technology................................2.4 GHz Smart-Code
Phone Ringing Input...................>40 vrms, 20 to 65 Hz
Phone Jack Type.........................RJ-11
Bed-shaker output jack...............9VDC, 150mA
Alarm/NOAA Input Jack...............Input impedance greater than 5.6K Ohm, 15VDC Max, input (active low).
External Lamp output jack............9VDC, 150mA
Back-up batteries........................4 AA size NiMH batteries (user provided) Recommended >1000mAh capacity
Doorbell battery...........................(CR2032 3-Volt Lithium) Lasts 8-16 months (depending on usage)
AC Adapter output.......................9VDC, 1000mA
Operating temperature.................10 to 30 degrees C
Storage temperature.....................-10 to 40 degrees C
Specifications are subject to change without notice.
FAQ:
Q: Must I install batteries in CA-360Q?
A:Â  Batteries are for power outage back-up. The unit works with AC adapter and batteries are optional. It is strongly recommended that you install batteries.
Q: What type of batteries does it need?
A: Please install rechargeable NiMH batteries only. Use of regular or non-rechargeable batteries will cause battery leakage, damage unit and void the product warranty.
Q: What is the battery back-up time on CA-360Q?
A: About 7 days (normal operation, infrequent alerts)
Q: Is it alright to place CA-360Q Master unit on a metal surface?
A: No! Only place it on a non-metallic surface. A metal surface attenuates wireless signal transmission and reduces its operating range.
Q: Is the wireless doorbell water-resistant?
A: Yes, it is water resistant because it is protected with a rubber gasket. However, do not submerge in water.
Q: How long does the doorbell battery last?
A: About 8 to 16 months (depends on how often you used it). Replace battery when its transmit indicator becomes dim or if its operation becomes less consistent.
Q: How many doorbell units can my CA-360Q system support?
A: It can support a total of 4 units in any combination of doorbell (Model CA-DB), and door knock sensor (Model CA-DX).
Q: How about other accessories?
A: Refer to the table in the "Adding Wireless Sensors". The system can support up to 10 Remote-Receivers (CA-RX), 10 Personal pagers (CA-PX), 10 audio sensors (CA-AX), 4 SOS pendants (CA-SOS), 3 Baby-Sound sensors (CA-BX), 1 Cell-phone sensor (CA-CX), and 1 NOAA sensor (CA-NOAA)
Q: I just bought an extra doorbell for my CA-360Q system, but it did not work. What do I need to do?
A: All new accessory devices must be learned or registered by a CA-360Q master-unit before they can work or be recognized.
Q: I bought four CA-360Q systems for my home. Can I combine them into a single system?
A: Yes, you can. You need to convert three of the CA-360Q units from "Master" Unit into a "Remote-Receiver" so they can be learned (or registered) into the "Master" Unit.
Q: How do I reset accessory's low battery icon on CA-360Q?
A: Press the RESET button for 6 seconds. This is only temporary. The low battery icon will appear again when the next accessory low battery signal is received.
Q: What caused this accessory's low battery icon to show?
A: This message is associated with registered sensor's battery is either low, or not being turned on, or it may be placed too far from CA-360Q. Turn on its power on move the sensor closer to CA-360Q usually solve the issue.
Q: I have difficulty in registering an accessory to my CA-360Q system. What should I do?
A: Make sure the CA-360Q is in pairing mode first, and you press the test button on the accessory for at least 6 seconds when registering, until you hear CA-360Q sounds and display the confirmation.
Q: I have a large home, can I use two or more CA-360Q to increase coverage area?
A: Yes, CA-360Q and remote receivers has built-in repeater functions. Each unit can relay the signal it received to the next unit. This greatly increases effective coverage area.
Q: Why is my CA-360Q displays "AX-0" ?
A: Your CA-360Q has enabled the "General CA-AX alerts" function. It has detected a nearby CA-AX sensor signal not part of its own. Refer to earlier section on general CA-AX alerts.
How To Use Home Central Alert System